Revivify Your Old Posts with Auto-Poster
The Best Social Share Scheduler Auto-Poster
Designed For Anyone in Need of Social Network Sharing
Flexible social share scheduler auto-poster designed for anyone who wants to boost their social network presence by scheduling and auto (re)sharing WordPress posts, including businesses, bloggers & web developers.
Easily get your content to social networks via multiple options.
You can rely on our simple dashboard to schedule post or content publishing (status/message, link, image file) on specific social network/page and time. 
For more customizable approach, Revivify offers an API, ready for easy integration with your own solutions.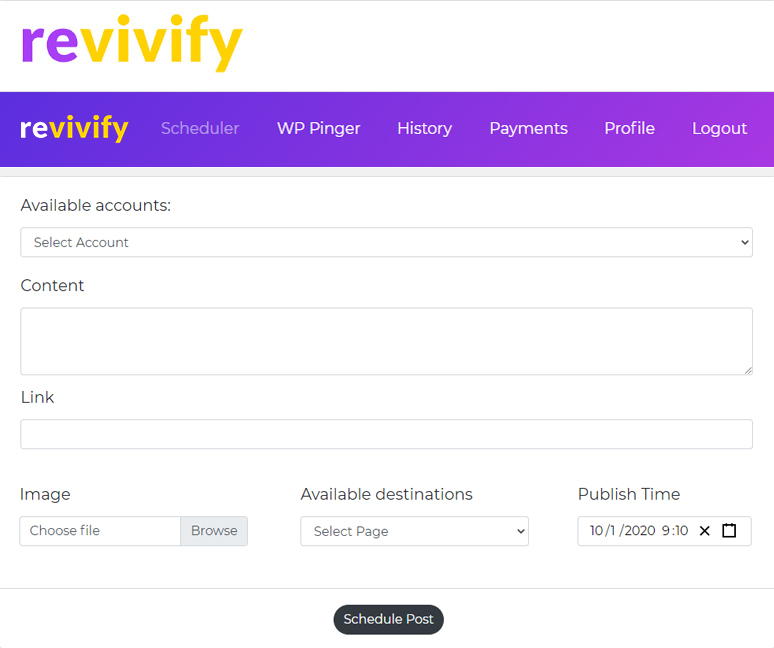 WordPress Plugin Available
To accomodate vast WP market needs ReVivify has developed a social network share plugin or auto poster. It's designed to help you with your social network sharing, offering multiple options and settings to make your life easier (Intervals, time ranges, tags, categories, templates and many more).
Unlimited websites, unlimited accounts. Keeping the old posts active or sharing new ones was never easier. Easily share your revivify account with your clients, keep everything in one place for easy monitoring.
expand your social share auto-poster
Revivify Auto-Poster Features
FREE
Enjoy Revivify Completely FREE!
BASIC PLUS
The Best Plus Value
STARTER PLUS
Plus Revivify Plan
Get Started with Revivify Today
The most flexible Auto-Poster available.